Thursday, May 31, 2007
TOMORROW IS THE BIG DAY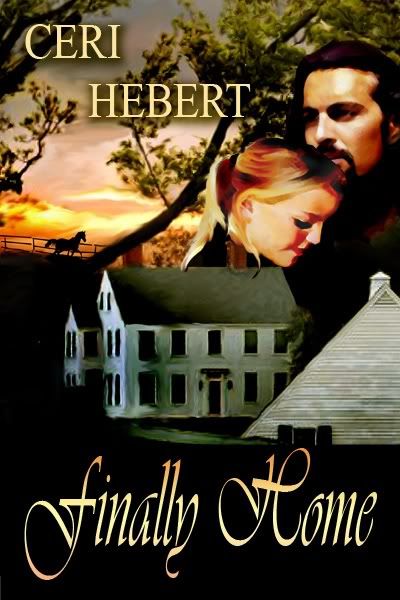 More tomorrow.
posted by Ceri Hebert @ 4:50 PM

Tuesday, May 29, 2007
Upping the Word Count
I had to up my That Kind of Magic word count once again as I've gone over my intended goal yet again. I started this story out with the intention of submitting it to a short story anthology. They wanted no more than 8000 words. Well, I'm over 30k now. No, I'm not complaining. I wish there were a way to make it 75k. I'll settle for 40-50k though. I just want to finish it. I'm itching to get it submitted somewhere.

I also have a few other short stories that I originally sent off to Woman's World, that I want to polish up and submit, maybe to
The Wild Rose Press
.

Today I made the decision to post on the
Whiskey Creek Press
blog on June 11th. I have absolutely NO IDEA what I'm going to blog about. Everyone seems to have so many good things to share and I'm not exactly full of ideas, wisdom and/or wit. But I have some time to come up with something. If nothing else, it'll give me a chance to promote Finally Home which'll be released on June 1st. In the meantime I'll check out what other bloggers have to say.

So, the long weekend is over and its back to work. It was partially relaxing, and we found a second car to replace the Van O' Death which still hunkers out in our driveway, waiting for a tow truck to take it far far away. I can taste freedom again! And its sweet.
posted by Ceri Hebert @ 4:15 PM

Saturday, May 26, 2007
NEBRASKA?
Okay, whats in Nebraska?
My husband's friend and wife are relocating from here in NH to Nebraska. He got a good job and he's been sending myDH ads for houses and apartments. WOW! We could actually afford a decent house out there! I doubt we'd be able to afford one here in NH, not a nice one anyway. but all I can see when I think of Nebraska is flat land. Lots of it. Not that thats a bad thing, mind you, but I think I'd miss the trees here in NH and the hills, and Mt. Monadnock, and the ocean even though we don't get there as often as I'd like.
But another part of me looks at it like an adventure. Where are we going here? My job is going no where, not my writing, but my mundane job, my husband can do what he's doing other places. Of course our parents are here, so that makes it hard to leave. But I'd be "closer" to both my brother in TX and sister in ID.
I know its not going to happen, but its kind of fun to think of the "what ifs".
Still working hard on my edits. I wish I could dedicate an entire day to it, I'd love to get it back to her by the end of the week.
HAPPY MEMORIAL DAY WEEKEND ALL!!!!!
posted by Ceri Hebert @ 6:21 AM

Friday, May 25, 2007
Round One Done
I got through my first round of editing Where One Road Leads. It was pretty simple but I read the story as much for pleasure as for work. I really like this one (yeh, I've mentioned it before). Now I have to go through again and again and again for work. It seems like this is easier than the first two manuscripts I did this with. Guess this one is a lot cleaner. I'm definitely learning as I go.
Its about 2000 degrees out today. Finally summer has arrived. A bit early, but I certainly can't complain about chilly weather. I can, however, complain about my electric bill. My DH decided it was time to put the air conditioners in. Personally, I'd much rather have fresh air, but it does get a little toasty inside.
There, my break is over... back to work.
posted by Ceri Hebert @ 9:58 AM

Wednesday, May 23, 2007
Let The Editing Begin
True to my editor's word, I found Where One Road Leads in my In box this morning, ready for the first set of edits. I may be crazy, but I'm really looking forward to getting back into this one. The other two I was just tired of, this one I'm very jazzed about. I love the story (not that I don't love the other two), I love the characters. Maybe its that I haven't looked at it as much as I've looked at the others. I just really love this story.

I'll have to put aside my other projects for awhile, that thats okay, July 3rd is going to be here sooner than I know. I can't wait to get the cover art done.

Now I'm off to use up the few minutes I have before my son's haircut to get some editing done.
posted by Ceri Hebert @ 11:47 AM

Tuesday, May 22, 2007
MY FIRST REVIEW AND A RELEASE DATE
I guess I'm asleep at the wheel. A friend pointed out to me that I've received my first review for
Sweet Forever
from
Coffee Time Romance
. I am very pleased. I'm starting to feel like Pinocchio who's turning into a real boy. Yeh, I know.... silly comparison, but still, it takes some getting used to, this author business, especially after dreaming about it for so long.
Here's the wonderful review!
SWEET FOREVERCERI HEBERT
ISBN 1-59998-462-8
April 24, 2007
Samhain Publishing, Ltd
www.samhainpublishing.com
E-book$4.50
178 Pages Contemporary Romance
Rating: 3 Cups
Hayden Merrick had always loved living in Clarksport Maine. It was a fantasy of hers to live in the lighthouse cottage near her home and be the keeper of the light. Leaving Maine to visit her estranged grandmother made Hayden understandably nervous. However she never thought that going to South Dakota would feel like coming home.
Ben Winslow was a cowboy from the brim of his hat to the tips of his boots. He loved his guest ranch and the beautiful prairie land that surrounded it. Being with his horses, entertaining his guests, and running the ranch was his life. Upon the arrival of a friend's granddaughter, Ben realized he just might have to broaden his horizons.
Hayden was pleasantly surprised at how well she was getting along with her grandmother. The community of Burton, South Dakota was a different story. They seemed to have some preconceived notion that she was there to cause trouble. When all she really wanted was some answers. However after meeting Ben, all she got was more questions. Her home was in Maine, but she was finding out that her heart might be in South Dakota. Would Ben be able to convince her that he could fulfill her fantasy right there on Forever Ranch? Or would the call of the ocean pull her away forever?
What a beautiful love story. Hayden is a strong and independent woman. She persevered against many odds to reconnect with her family. Ben is a real man inside and out. His support of Hayden's decisions, even at the risk of losing her, is what makes him a truly wonderful person. Together they made a very dynamic couple.
Thank you Ceri Hebert, this was a real joy to read.
LototyReviewer for Coffee Time Romance
Reviewer for Karen Find Out About New Books
ALSO
Finally Home will be released on June 1st from
Whiskey Creek Press
!!!!
And with another release in early July, its going to be an exciting summer!
posted by Ceri Hebert @ 4:49 AM

Sunday, May 20, 2007
Sunday Sunday
Oh, I know, its supposed to be Monday Monday.... but today has been filled with house cleaning. DH is a cleaning nazi. But he washed the carpets and the sofa and chair, so there's good out of his moods. Now its 7:30 and I'm still cooking dinner. At least we had a nice day yesterday, despite the rain. We went out to eat and shopped. Now we're broke. Such is life.
And now I'm just settling down to get some writing done. I just wish I had a quiet, private office. My desk, at the moment, consists of the dining room table. I'm working on my laptop because my kids have rediscovered Sims on my desktop. And the kids are hyped. How does one work under such conditions? I remember reading a book on how to be a writer (I actually have several, but this was my first and now most dogeared copy), the author recommended setting up a writing space, complete with flowers, smelly candles, quiet romantic music, a beautiful view...anything that would help with the writing process (this was a how to write a romance book). I had lovely dreams of having such a place, maybe with a view of a garden or a forest, something inspiring. How in the world did I go from that to the dining room table surrounded by hyper kids, a tv in the background, and no view whatsoever (unless I move the laptop to another desk, then I can have a view of the road).
A writing space was so little to ask for.
Wasn't it?
Where do you write? Where are you most inspired? What is your ideal writing space of your dreams?
posted by Ceri Hebert @ 4:37 PM

Thursday, May 17, 2007
Shirking My Duties
I promised myself that I would write on this blog everyday. I guess I haven't been doing such a good job of it. Its just been one of those weeks, not necessarily good. Between infected sunburns, rain, thunder, lightning and tornado watches, spring concerts and Egypt Day, my week hasn't exactly been boring. Okay so it hasn't all been bad. But a week without writing isn't necessarily a good thing, especially when I haven't submitted anything to a publisher for months and months.
Where One Road Leads will be appearing in my inbox any day now for editing. I should be taking advantage of the break from editing I've gotten to work on That Kind Of Magic. Already its met my 25k word goal and I'm not even close to being done. So, who knows, maybe it'll hit 40k.
Seriously though, I have to push past the distractions and get this baby written.
And I've been thinking about what I might do for my Nanowrimo in November. Perhaps the sequel to Finally Home? Of course that hasn't gone on sale yet, but I should have an idea of how people are likeing it by fall.
Okay, so this could be considered procrastinating.
Off I go, back to the story.
posted by Ceri Hebert @ 3:04 PM

Saturday, May 12, 2007
Why Not Romance?
I have a show that I adore (The Office) and I post on The Office forums (I'm not ashamed to say so) and I'm always surprised and a little irked at the posters there who tease and scorn those fans who watch the show primarily for the romance, or hopes of a romance, between two of the characters. Yes, I watch the show for the other characters, but Jim and Pam (hereafter refered to as JAM) drew me to the show in the first place. I'm amongst many who watch for any tiny indication that there is something between these two (which there is, amongst all the angst) and I get all giddy at those indications.

Hey, I love romance. Whats wrong with that? I'm in love with love (I always think this in a French accent-don't ask me why). Why in the world should I have to hide that fact? Hi, my name is Ceri Hebert and I'm a romance addict. Yes, I watch The Office primarily for JAM. I watch Men In Trees because Marin and Jack are in love but they're just not with each other. I watch Lost because deep down I know that Kate loves Sawyer (okay, that show I do watch for other reasons) and I even watch Ugly Betty because I know that Betty and Henry belong together. So sue me.

My reading choices run the same pattern. I love a good story, like Dean Koontz and Stephen King but please please please put some romance in there for me! It doesn't make me a bad person to want it. Does it? This is why I write it. I want to live vicariously throug the couples that I create. I don't care what kind of story I write it's going to be a romance. That is the primary focus, no matter what the plot.

So, why should I be condemmed for wanting more JAM in my Thursday evenings?
posted by Ceri Hebert @ 4:24 AM

Wednesday, May 9, 2007
CONGRATS MARIANNE
Everyone needs to check out
Marianne's blog
. She's just released yet another story from
Wild Rose Press
and she's running a contest on her blog with some wonderful prizes.
Congrats Marianne!!
posted by Ceri Hebert @ 11:53 AM

Monday, May 7, 2007
So, We're Not Done Yet
Just when I thought things were done, I got my print galley of Finally Home. It was such an exciting moment to pull an actual book with my name on it out of the envelope and hold it in my hands. But I have to go through it and look for any mistakes. I have a week to do this. And my husband thinks I should've gone by my full name, Cerian, instead of Ceri. Cerian, he says, is more unique and sophisticated. Oy.
I must put off my other writing projects for a week now. Right when I was on a roll with That Kind of Magic. I had some great ideas. I hope they hang around long enough for me to get them down on paper at least.
In other, not so cool news, if my van were a horse, it would've been shot yesterday. I have to have it towed and put out of its misery. So that will mean we're permanently down to one car. Until we can afford something new(ish).
Never a dull moment!!
posted by Ceri Hebert @ 12:29 PM

Sunday, May 6, 2007
Ya Wanna Win A Book?
My friend, Marianne, is running a contest
here
. Go check it out and see whatelse is happening on her awesome blog!
posted by Ceri Hebert @ 8:47 AM

My Hero
UPDATE:
My brilliant husband was able to restore the document in wordpad. I lost the first few short paragraphs and a bit from the end and I'm going to have a lot of reformatting to do, but I'm extremely relieved!
And from now on I'll keep copies everywhere. I don't want to go through this ever ever again!
posted by Ceri Hebert @ 4:52 AM

What A Writer Shouldn't Do.....
Learn from me......
I want to cry. Curl up into a little ball and just cry.

I was working on my latest at work yesterday. This morning I wanted to work on it more and I went to open it and guess what.... it wouldn't open. I got some message about checking for permissions etc. I have this saved to a memory stick so I can bring it to work with me or use it on my laptop or desktop.

And for the GOOD news??? I DON'T HAVE A BACKUP!!!!!!!!!!

I might have pieces here and there, like the first sex scene, but nothing that will save me huge amounts of work.

Why oh why oh why don't I learn to make backups?!?!!?!? I was well over 18k into the story and rewriting it is going to be a huge task. Well, not huge, but its going to be a PITA and I don't know it I can get the same things from it.

Jim is trying to fix it or restore it. I'm also going to see if it'll open for me at work where I was last working on it. And then I'm going to back it up EVERYWHERE!!!!!!!!!
posted by Ceri Hebert @ 4:38 AM

Saturday, May 5, 2007
What's A Poor Writer To Do
I finally got past my writers block and wrote the nookie scene in That Kind Of Magic. Now it feels like a dam has burst and I have such an overwhelming desire to keep going and take advantage of this while I can.
However I don't think my boss would appreciate me writing my novella instead of doing what I'm being paid for, which is to do data entry.
So, what do other writers do when they have the strong urge and the good ideas to write, but can't do it? I tend to write in my head, but nine times out of ten by the time I'm finally able to get it down I've lost a good portion of my ideas.
Thoughts?
posted by Ceri Hebert @ 1:26 PM

Friday, May 4, 2007
Writing? Whats that?
The last few days have just been way too distracting. I've gotten maybe 300 words written. If that. I have the concetration of a gnat right now. Well, let me rephrase because as far as I know gnats have wonderful powers of concentration. I have the concentration of a 3 year old.
It doesn't help that things at work are in an uproar and I'm not feeling too much job security at the moment. Unemployment is not on my agenda at the moment.
So, as soon as I finish here I'm going to open my word doc and not let myself be distracted from getting my thoughts down. I so want to finish this story and get it sent out somewhere. I'm in the mood to have a #4 on my resume.
posted by Ceri Hebert @ 4:04 PM

Wednesday, May 2, 2007
Yahooooozie!
I've been looking for Where One Road Leads under the August releases over at
Samhain
and I haven't been able to find it. So finally I started looking around and found it. Its been moved up to release July 3rd!! I've been assigned a cover artist and everything but I haven't been contacted yet.
I'm so excited about this one. I really like this story best and can't wait til it's published.
I've been working on my novella but I've been procrastinating over the current scene I'm doing which is a nookie scene. Maybe its the fact that I'm constantly surrounded by kids, or maybe its the fact that I just want to gloss over this scene and if it wasn't for the fact that I already wrote a really good nookie scene I'd go ahead and gloss over it. But this one is going to be steamy. I just can't find my steam factor.
So, I can either skip the scene and come back to it when I'm in the mood or buckle down and work my way through it. What is the best course of action? Usually I skip ahead if I'm having difficulties. I've been known to write the end of a story before I write the middle. Anyone else do that?
posted by Ceri Hebert @ 12:08 PM

about me
Name: Ceri Hebert
Location: Southwestern, New Hampshire, United States
I'm 44 year old mom of 3. I work as a customer service rep for a publishing company, and I write. I have five published novels and working on adding to that.
Previous Posts
Archives
The Legacy:

DREAMERS SEA (REDUX):

THAT KIND OF MAGIC--AVAILABLE NOVEMBER 17,2010 What's a witch to do when she refuses to use magic to find love? Beautiful Wiccan Charlotte Noone has a shop for magical supplies and a goddess who's pushing her to find the man of her dreams. When Patrick Riordan, a straight-laced non-believer enters her life, Charlotte falls madly in lust with him. Despite their very different lives, neither can stop the erotic journey they've embarked on, but will it be enough to break through their barriers so they can accept that love itself is magical?. .
Blogs I Read
Template By